Are you looking to hire a professional Sydney choir, professional chorus or professional singers for your event? Do you need Sydney Christmas entertainment such as a Christmas choir? Do you require some experienced session singers for your recording? We perform in Sydney and surrounding areas. Cantabile Choir is available as a group of 3 to 20 singers. Book us direct and save!
All members of Cantabile Choir are professional singers who are highly
trained in singing and music. We are a versatile vocal group that can perform traditional classical repertoire, jazz, gospel or pop arrangements. We usually perform in four-part harmony (soprano, alto, tenor and bass).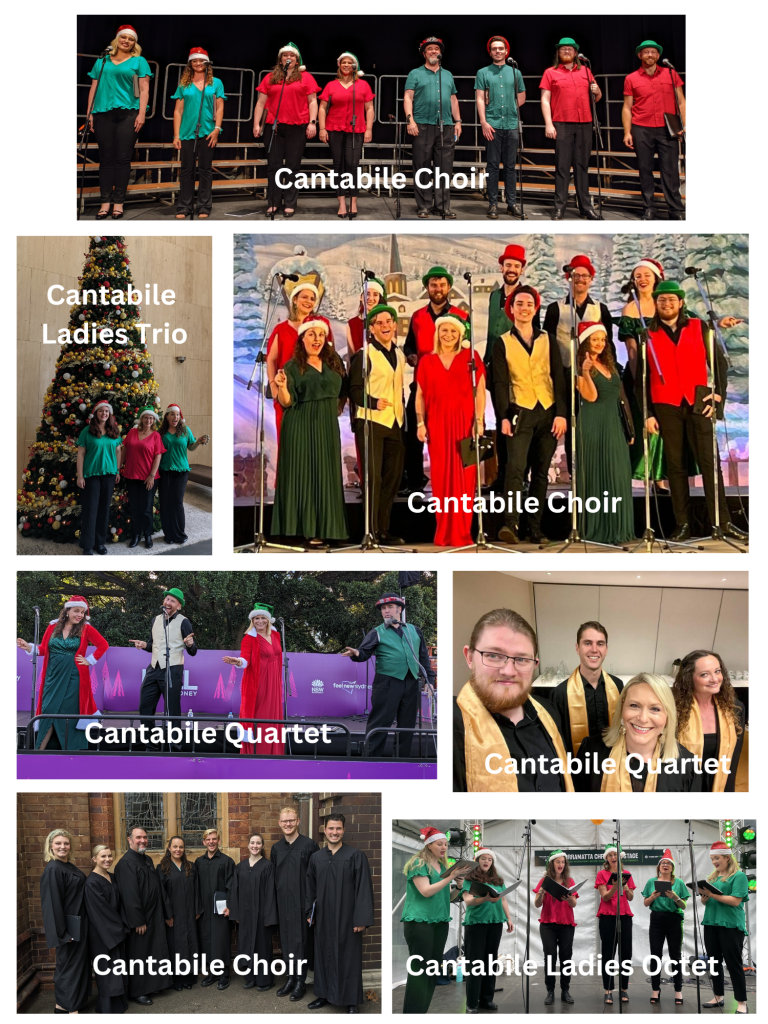 Sydney Event Choir
There's nothing like live music sung with beautiful harmonies to make your event unforgettable. We can perform as a large traditional choir, gospel choir, pop choir, barbershop quartet or small a Capella group.
Cantabile Choir performances have been filmed for advertisements for companies such as 5 Seeds Cider, Uber, Sydney Tower Skywalk and we have made television appearances for Sunrise, Channel 7 News and Current Affair. We have performed for a wide range of delighted clients such as News Corp, Telstra, Val Morgan, Dyson, Australian Red Cross, Logitech and Glasshouse Fragrances. Special events have included Citizenship Ceremonies, University Graduations at Wesley Theatre, The Sydney International Convention Centre and Memorial for the NSW Transport Workers Union as well as many weddings, funerals and private functions.
Sydney Session Choir
We are professional session singers highly skilled in lead vocals and
backing vocals for your recording project. Our choir director (Natalie Claire) can also provide a children's choir if required. We have prepared vocals for Sydney's top recording studios including Trackdown, Rumble, 301 and Songzu. We have recorded advertisement vocals for companies such as Who Gives a Crap, Woolies, Big W, Elastoplast, Cashrewards and Tip Top Bread, single recordings for artists such as Rudyb and musical theatre demos for composers such as Simon Bartlett.
Sydney Christmas Choir
Your jolly Christmas entertainers dress in bright Christmas colours and festive hats. Choose between our smart casual or formal uniform.
The mobility and flexibility of the carol singing group allows us to roam amongst guests, sing by the Christmas tree enchanting guests as they come and go or perform a 'Carols by Candlelight' stage concert. Our Christmas carollers are entertaining, heart warming, will delight any audience and really bring the spirit of Christmas alive.
Our experience and professionalism guarantee you the highest standard of performance reliability. We have entertained thousands at various events such as Noel Botanic Gardens, Tumbalong Park Darling Harbour, Burwood Carols, Bexley Carols, the Lights of Christmas St Mary's Cathedral, Christmas in the City Martin Place and Carols By the Beach Thirroul. We can wow audiences with our A Capella act or provide our rockin' backing band. Don't take chances by hiring an amateur choir.
Hire our Cantabile Choir, Cantabile Quartet or Cantabile Ladies Trio for your Christmas event. Dates fill up quickly!