Email natalie@natalieclaire.com.au for an immediate response or call 0415 796 095. We are available to perform most days of the week.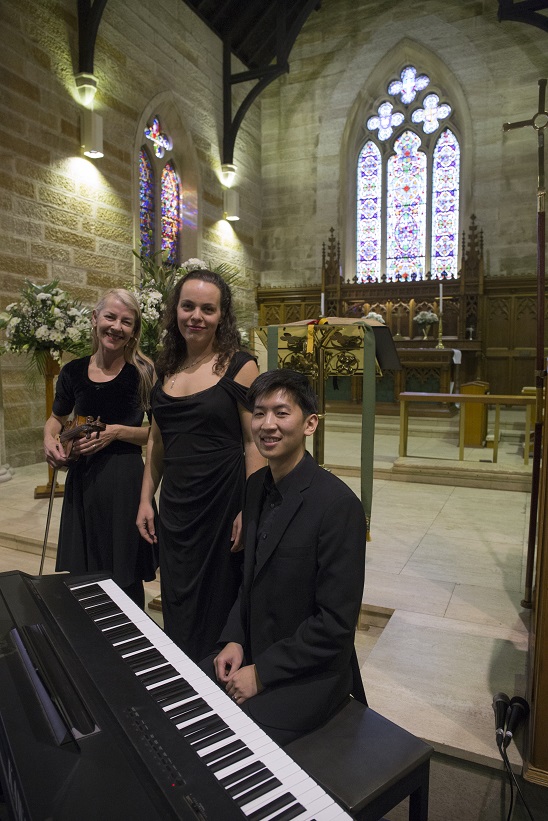 I am a professional Sydney funeral singer and church singer. My funeral musicians and I perform in Sydney, Wollongong and surrounding areas.
I understand how emotional arranging music for a loved one can be. Each funeral is very personal to me and I will do my utmost to help.
I have a large network of outstanding Sydney funeral musicians who I can provide to play the accompaniment. We are experienced and have the particular performance skills necessary to facilitate a seamless funeral service.
I will guide you through the service with sensitivity and help you to choose music that is appropriate for the memorial service. I can perform a special song, chosen by you and your family to reflect the life of your loved one. I ensure that the musical ambiance I create is unobtrusive and honors the memory of those who have passed.
I'm always happy to liaise with the Funeral Celebrant, Minister or Funeral Director if required and I will do everything necessary to make sure that everything goes smoothly on the day.
It will be my pleasure to help you celebrate your loved one's life and memories with beautiful singing and music.
Testimonials from recent clients:
"Natalie sang at our father's recent funeral. On behalf of our whole family, I'd like to thank Natalie so much. Her singing was superb, adding enormously to the ambiance, character and quality of the service. Natalie was very professional, flexible and caring in response to the family's ideas, including working so well with the other musician we had selected. The music was a very important part of the service – her singing was truly amazing. We are incredibly grateful for what Natalie provided for us – we could not have asked for anything better. We cannot thank you enough." Christine Murphy, on behalf of the Murphy Family
"I just wanted to say a huge thankyou to Camilla and Mirek for the beautiful music they provided for my Mum's funeral. The music added so much to the ambience of the service. Camilla and Mirek are not only wonderful performers but also extremely professional and respectful given the context of a funeral." Louise Upton, Belrose Uniting Church Sydney
"The musicians played beautifully, a lovely tribute to my mother I am so very grateful that Camilla was able to sings the hymns, because of the covid pandemic, restrictions on attendance was minimal By having them play it made the service feel fuller Thank you soooo much Everyone said it was beautiful
So greatful." Kim Preissl, St Mathew's Catholic Church Windsor.
"Thank you so much for sending Yasmin and Mirek, they were wonderful, I think Mum would have really loved the music and the playing and singing were just so beautiful from them, I couldn't have wished for any better and my family were so pleased as well. It was a tough day but the music really helped. Thank you again, I can't believe how easy you made it, thank you." Maree O'Neill, St Patrick's Church Blacktown.
"Camilla and Mirek were wonderful and their professionalism and musical talent provided the respectful mood we sought for my mother's funeral. We were all so moved by the service . Many thanks and please pass on my personal thanks to these fine musicians." David Hundt, The Sacred Heart Chapel Rookwood
"All who attended were very complimentary about Camilla and Gerard's performance, they performed in perfect coordination from my perspective. We loved Camilla's singing voice and I thought the songs chosen added a lot of value to the service, the songs were classic and timeless choices, and the singing was uplifting and professional. " Bronwyn Tan, Macquarie Park Crematorium
"Camilla and Gerard were both amazing! Really and Truly. They were prompt, helpful, Camilla sang so beautifully and Gerard played perfectly. They were both so fantastic. Camilla was lovely and even said she enjoyed the video and service. I can't thank you enough. Everyone said during and after how wonderful the music was. I think Camilla's Ave Maria bought quite a few people to tears because her singing was so fabulous. Thankyou so much!" Melanie Remai, Our Lady of Fatima Caringbah
"It was great to meet you, I have since been able to view the filming and you and your colleagues sound fantastic. I am so pleased that you were available to attend this service." Ann Martin, White Lady Funerals
"It was a comfort to hear Natalie's angelic voice sing Ave Maria for my father-in-law's funeral – it was one of his favourite pieces of music. Natalie has a beautiful voice and a wide repertoire of songs. As an experienced musician she was easily able to work with an accompanist she did not know for the funeral." Stephanie, South Chapel, Woronora Cemetery
"I can't thank you enough for your assistance at Tuesday's service, it was such late notice and they kept throwing in new songs at you, the way that you handled it all was just so professional. I'm really looking forward to being able to work with you again!" Shannyn Geeve, White Lady Funerals
"Many thanks to Cantabile musicians for their excellent work yesterday. The introductory music they played leading in was profoundly and beautifully reflective (we would love to know what those pieces were), and their leadership was inspiring, including with at least one piece that would have been unfamiliar to many (Nothing is Lost on the Breath of God). They made a terrific contribution to the service – and really did major work in making the occasion what it was. Would you please thank them. Best wishes and thanks again for making this possible! Michael and Fran, Baptist Care Shalom Centre
"Oh, Natalie. Your contribution to our day was nothing short of spectacular. Thank you so very much for all your research, practise, and exceptional delivery of all. I bawled at Hymn to Her. You executed that beautifully. Thank you seems a bit hollow. But thank you sincerely, we do. Please feel free to add my paltry words to your testimonials. With very best wishes" Kathryn Barton, St Gabrielle's Parish Bexley
"Natalie – thank you for adding such beauty in the form of music to our funeral yesterday. Your singing is glorious and the violinist and organist created serenity and joy. I also very much appreciated your attentiveness and professionalism in the lead up to the funeral. Thankyou."
Matha Halliday, Our Lady of Fatima Caringbah
"Camilla and Gerard were both amazing! Really and Truly. They were prompt, helpful, Camilla sang so beautifully and Gerard played perfectly. They were both so fantastic. Camilla was lovely and even said she enjoyed the video and service. I can't thank you enough. Everyone said during and after how wonderful the music was. I think Camilla's Ave Maria bought quite a few people to tears because her singing was so fabulous. Thankyou so much!" Melanie Remai, Our Lady of Fatima Caringbah
"Hi Natalie, I would like to take this opportunity to sincerely thank you and your accompaniments for providing such a professional service. You made mum's farewell ceremony a day to remember. You have an angelic voice and sang beautifully beyond words. We are very happy with our selection." Chris Iacono, Lucy and Family, St Benedict's Smithfield
"All who attended were very complimentary about Camilla and Gerard's performance, they performed in perfect coordination from my perspective. We loved Camilla's singing voice and I thought the songs chosen added a lot of value to the service, the songs were classic and timeless choices, and the singing was uplifting and professional. " Bronwyn Tan, Macquarie Park Crematorium
"Camilla and Gerard were wonderful and their professionalism and musical talent provided the respectful mood we sought for my mother's funeral. We were all so moved by the service . Many thanks and please pass on my personal thanks to these fine musicians." David Hundt, The Sacred Heart Chapel Rookwood
"I just wanted you to know that yourself and the choir was absolutely beautiful. Our whole family would like to thankyou very much for making our mums funeral so special. I know mum would have loved it. The choir was more beautiful than we could imagine. I will recommend the choir to anyone. Thankyou again.
Take Care and God Bless" Stella Testa, Corpus Christi Cathedral St Ives